August 20, 2020
Is Your Company's Data Properly Protected When Working From Home?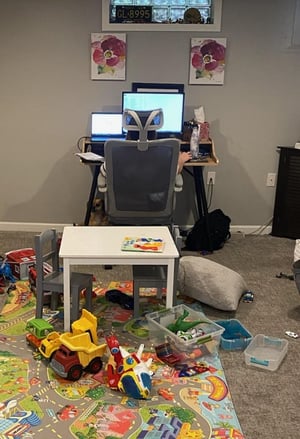 Six months ago, for many, working from home was a perk. Today, remote work often is a necessity. Many companies have learned that they can thrive with a smaller office footprint, and the trend toward remote workforces likely will continue after COVID-19 is a distant memory.
For example, in July 2020, Google announced that their employees will work from home until at least next summer (2021). In addition, Twitter and Facebook have also announced that some of their employees can continue to work at home indefinitely. It can safely be assumed that other companies will follow suit.
If you are working remotely, you might be wondering how you can make sure your organization's confidential data is safe. We recommend asking your IT department, but here are some simple steps any user can take to enhance information security while working remotely:
- Lock your computer: You don't need a padlock to secure your computer. For Windows systems, pressing the Windows key and the letter L immediately will lock the computer, requiring a password to log back in. This is particularly important if you have roommates or other household members.
- Use Security Software: If using a personal computer to do your business work, make sure that your computer is protected with security software. Invest in a paid program to provide anti-malware, anti-phishing, anti-virus, anti-spam, and anti-ransomware protection. The last thing you need is the scrutiny that follows after your home computer infects your business network.
- Use a VPN: A Virtual Private Network (VPN) is a secure gateway to your company data. Editing documents within your organization's security environment via VPN typically is safer than working on documents locally and then bringing those documents into the organization's network.
- Use a Properly Configured Firewall: Firewalls are either physical devices or software that sit between the Internet and your home network, reducing the chance of a successful cyber attack. Many home users don't have physical firewalls, or have not kept such devices up-to-date or properly configured, resulting in avoidable risk.
For further assistance, contact ELIJAH Ltd., a trusted resource that can provide recommendations and solutions for protecting business data at home.
---
Founded in 2003, ELIJAH is an industry leader in providing expert digital forensics, eDiscovery, cybersecurity, and information technology solutions. ELIJAH has received numerous recent industry recognitions for its expertise including "Digital Forensics Provider of the Year, U.S.", "E-Discovery Company of the Year, U.S.", and "Leading Data Security Advisor of the Year" in both Florida and Illinois.
ELIJAH offers case-based and managed services solutions to organizations of all sizes, leveraging its proprietary Dart project management software.
With joint headquarters in Chicago, Illinois and Miami, Florida and offices throughout the country, ELIJAH is called upon by a wide variety of companies, law firms, governmental entities, and others to meet their digital forensics, eDiscovery, cybersecurity, and information technology needs.
For additional information, please visit www.ElijahT.com or email info@ElijahT.com.