October 15, 2020
Video Conferencing Challenges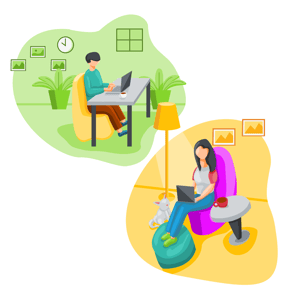 Organizations increasingly are relying on video conferencing platforms to conduct daily business affairs. Did you realize that many of these platforms save recordings, including potentially on individual employees' computers or in the cloud? For example, Zoom is a widely used video conferencing tool, and recordings can be saved either online with Zoom, or locally on a PC. (In Windows, the default location is C:\Users\[Profile Name]\Documents\Zoom.)
In litigation matters, attorneys should consider asking custodians whether they have used a video conferencing platform when engaging in potentially relevant conversations. Digital forensic experts like ELIJAH can assist with forensic collection of recorded video sessions, whether stored locally, on servers, or in the cloud. Recorded sessions also can be hosted in eDiscovery platforms like Relativity.
Similarly, organizations should consider video conferencing issues when evaluating their policies that address computer usage, data backups, and document retention. Information technology service providers can assist in devising appropriate solutions for local device management that ensure locally stored video conference recordings are securely backed up.
Contact ELIJAH today to find out how we can help solve the digital forensics, eDiscovery, and information technology challenges you face due to video conferencing usage.
---
Founded in 2003, ELIJAH is an industry leader in providing expert digital forensics, eDiscovery, cybersecurity, and information technology solutions. ELIJAH has received numerous recent industry recognitions for its expertise including "Digital Forensics Provider of the Year, U.S.", "E-Discovery Company of the Year, U.S.", and "Leading Data Security Advisor of the Year" in both Florida and Illinois.
ELIJAH offers case-based and managed services solutions to organizations of all sizes, leveraging its proprietary Dart project management software.
With joint headquarters in Chicago, Illinois and Miami, Florida and offices throughout the country, ELIJAH is called upon by a wide variety of companies, law firms, governmental entities, and others to meet their digital forensics, eDiscovery, cybersecurity, and information technology needs.
For additional information, please visit www.ElijahT.com or email info@ElijahT.com.