November 15, 2018
Data Breach – What Would You Do If You Received An Email Like This?
Imagine receiving an email from yourself telling you that the sender is really a computer hacker that has taken possession of your computer and knows everything about you: your passwords, what websites you go to, and other things that you would prefer to keep private. And, if that's not bad enough, the hacker now wants money to go away. Would this scare you? It did for one of our clients. Both the CEO & COO received the following email within hours of each other: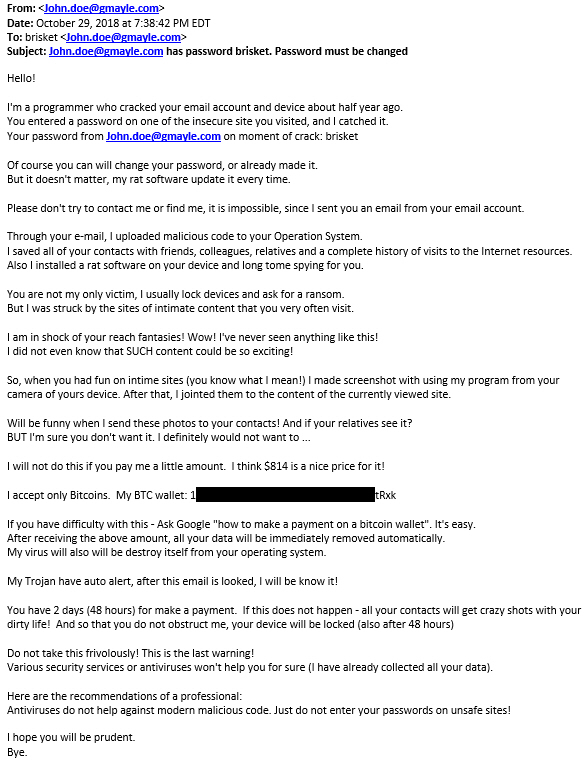 If you received this email, what would you do? Should you pay the hacker? In most circumstances, the short answer is NO. This particular email was simply a scare tactic to convince them to pay. The prevailing belief is that if you pay them once, you will pay them again – usually with the second payment being much higher than the first. Also, there is no guarantee that the hacker will keep their word.
So, aside from contacting your Managed IT Professional, what can you do to help protect yourself from a data breach and ever receiving an email like this in the future? The Simple Answer: Change your passwords often.
Recommendations for passwords:
Passwords should be at least 12 characters in length and include at least one Upper case letter, one lower case letter, one number, & one symbol.
Passwords should be changed at least quarterly. Some companies require this frequency for their employees.
Passwords should be different every change. Do not use a previous password or the same password with different numbers in it (i.e. Password123, then Password124).
Use a Password Keeper to store your passwords.
If you think you have an account that may have been compromised in a data breach, you can check with a website such as: https://haveibeenpwned.com. If your account has been compromised, change all of your passwords immediately. Not just email, but every financial website that you access, including and not limited to Banks, Credit Unions, Investment Firms, Credit Cards, etc. Then, change them often.
---
About ELIJAH
Founded in 2003, ELIJAH is a multi-award-winning leader in providing expert digital forensic, data security solutions, and managed IT. ELIJAH is owned and managed by former litigation partners and is an efficient boutique digital forensic, cybersecurity and IT solutions provider that makes clients' lives easier through effective communication and white glove service. For additional information, please visit https://www.elijaht.com or call 866-354-5240.
---
Elite Networking and Consulting is now part of ELIJAH. ELIJAH looks forward to continuing to deliver managed IT services with the same degree of care and high standards created by Elite. ELIJAH is also pleased to broaden our scope of expertise in providing Digital Forensic, Cybersecurity and IT Solutions.