July 11, 2019
Airport USB charging stations – Are they safe from Data Theft?
---
It turns out that those USB charging stations at airports are almost as dangerous as a public wi-fi connection. As IBM Security's Caleb Barlow recently said, "Plugging into a public USB port is kind of like finding a toothbrush on the side of the road and deciding to stick it in your mouth. You have no idea where that thing has been."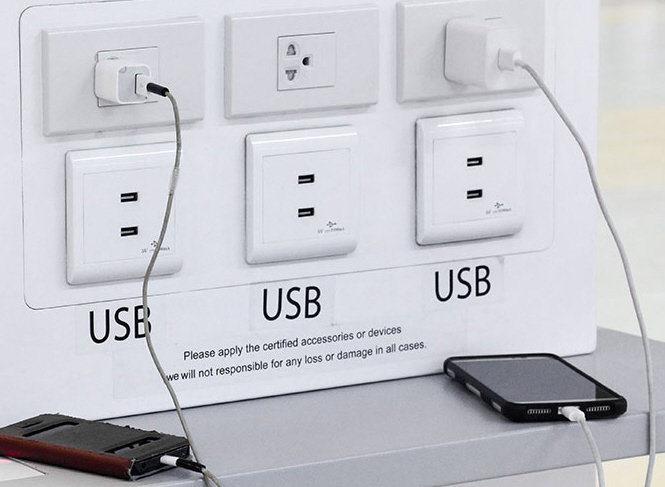 The threat is real. Hackers can easily configure those public USB chargers to deliver dangerous malware to your mobile device. Or, they can install bugs that download data off your smartphone without any warning. Either way, one simple plug into one simple charging station can put your data at risk and if you are using a work device, that risk can spread to your entire company network.
According to the 2019 IBM X-Force Threat Intelligence Index, cybercriminals are now targeting travelers. Since the beginning of 2018, more than 500 million sets of data related to travelers and transportation companies have been exposed in publicly reported breaches and hacks.
4 Tips to help avoid cyber security and data security risks while traveling?
Use a power charger that plugs directly into a wall outlet.

Only use your charger and not someone else's. Some aircraft offer power plugs at the seats. Use these with your power charger. However, in a crowded airport, an available wall outlet may be scarce, so be sure to have a full charge on your devices before leaving for the airport.

Use a portable power pack.

These battery devices can be lifesavers when traveling, as they can provide a charge to your device and save you from connecting to a public USB port.

Public Wi-Fi.

Use only for basic browsing and do not do any password changes, financial transactions, file transfers, or any activity of a private or confidential manner. If you need to conduct business, use a VPN or use your phone as a hotspot.

Security software

is a must for all devices. Computers are not the only devices that need to be protected by security software. Smartphones need the protection, too. Make sure that your software is up-to-date on all devices before traveling.
A comprehensive approach to data security is a necessity in today's world to help protect yourself from data risks. This extends to choices when using any public amenities such as Public Wi-Fi or USB charging stations. For advice on how to best protect you and your business, contact your trusted IT vendor.
---
About ELIJAH
Founded in 2003, ELIJAH is a multi-award-winning leader in providing expert digital forensic, data security solutions, and managed IT. ELIJAH is owned and managed by former litigation partners and is an efficient boutique digital forensic, cybersecurity and IT solutions provider that makes clients' lives easier through effective communication and white glove service. For additional information, please visit https://www.elijaht.com or call 866-354-5240.